Since 1920, pasteurization has been widely used to increase food safety and extend product shelf life.
The process is named after its inventor, Louis Pasteur, a French chemist and microbiologist who completed the first pasteurization test on April 20, 1862.
It's estimated that 1-1.1% of eggs produced in Malaysia are contaminated with Salmonella, according to Dato' Dr Norlizan bin Mohd Noor, Director General of Department of Veterinary Services Malaysia. Click here to find out more.
While in the United States, all egg products have to be pasteurized according to USDA requirements.
You'll also be able to get pasteurized eggs in countries such as Australia, Singapore, Hong Kong, Abu Dhabi, and South Korea.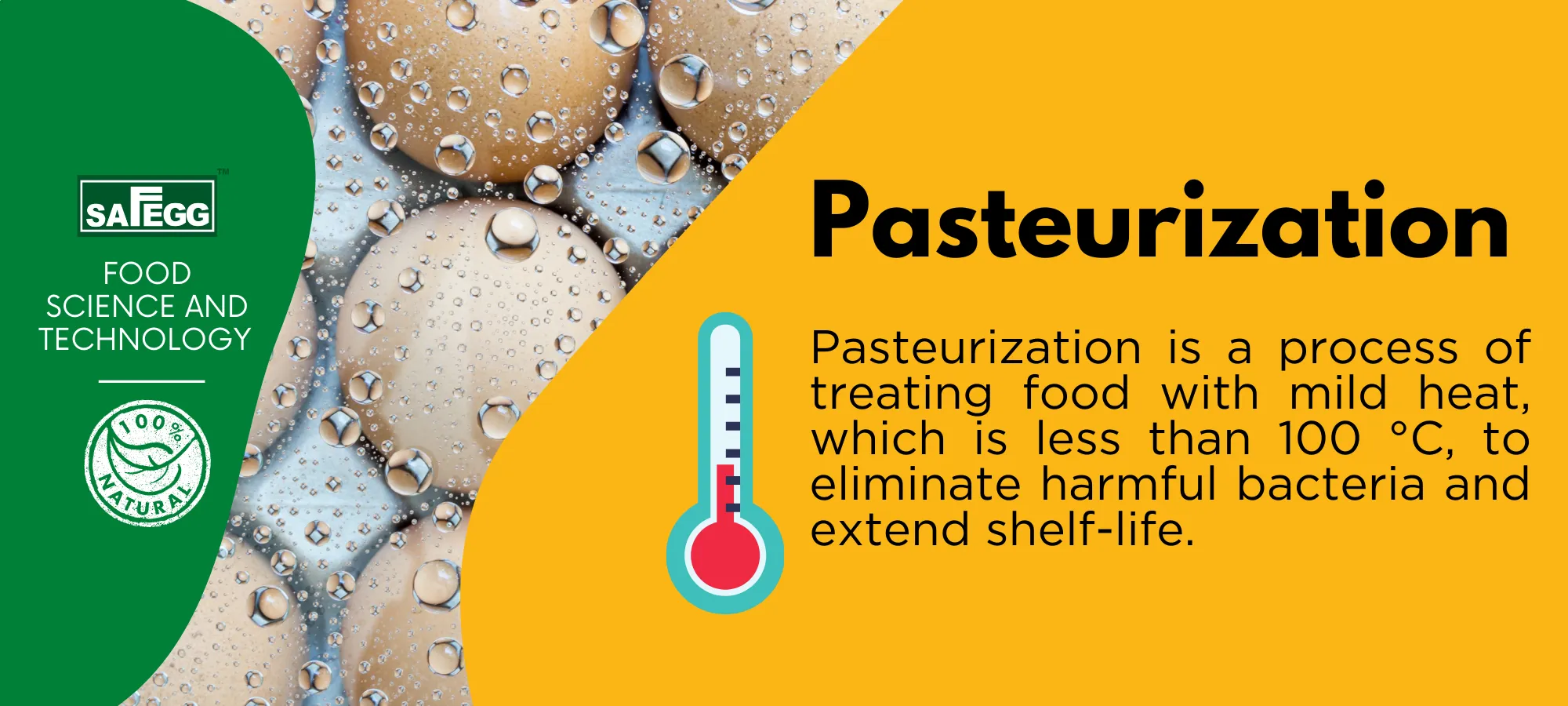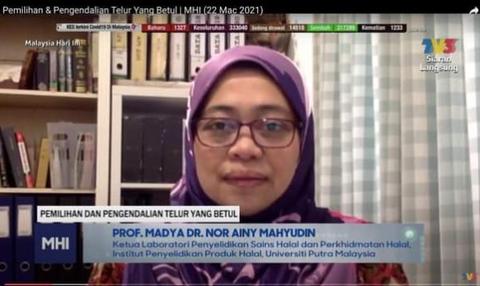 Check out what Malaysian scientist as sharing about pasteurized eggs:
Pemilihan & Pengendalian Telur Yang Betul | MHI (22 Mac 2021) - YouTube
Prof. Madya Dr. Nor Ainy Mahyudin Facebook Post
Safe Food Corporation a.k.a Safegg™ is Malaysia's first and only company producing pasteurized shell chicken eggs since 2008.
Only the freshest eggs laid within the past 48 hours are pasteurized to create Safegg™. All our eggs are sourced from hardworking local Malaysian farmers.
Pasteurization, which is a heat treatment process, aims to reduce the number of pathogenic spoilage micro-organisms to a level they are unlikely to cause food borne illness. Pasteurization process of elimination and enzyme inactivation of harmful bacteria. Learn more at USFDA.
Safegg™ is commonly used at leading international franchises such as 4 Fingers, A&W, Subway, Go Noodles; and Hazard Analysis Critical Control Point HACCP certified kitchens.
Learn more about pasteurized eggs at USDA
Pasteurization is commonly used for perishable food like milk, ice creams, canned food and of course…eggs.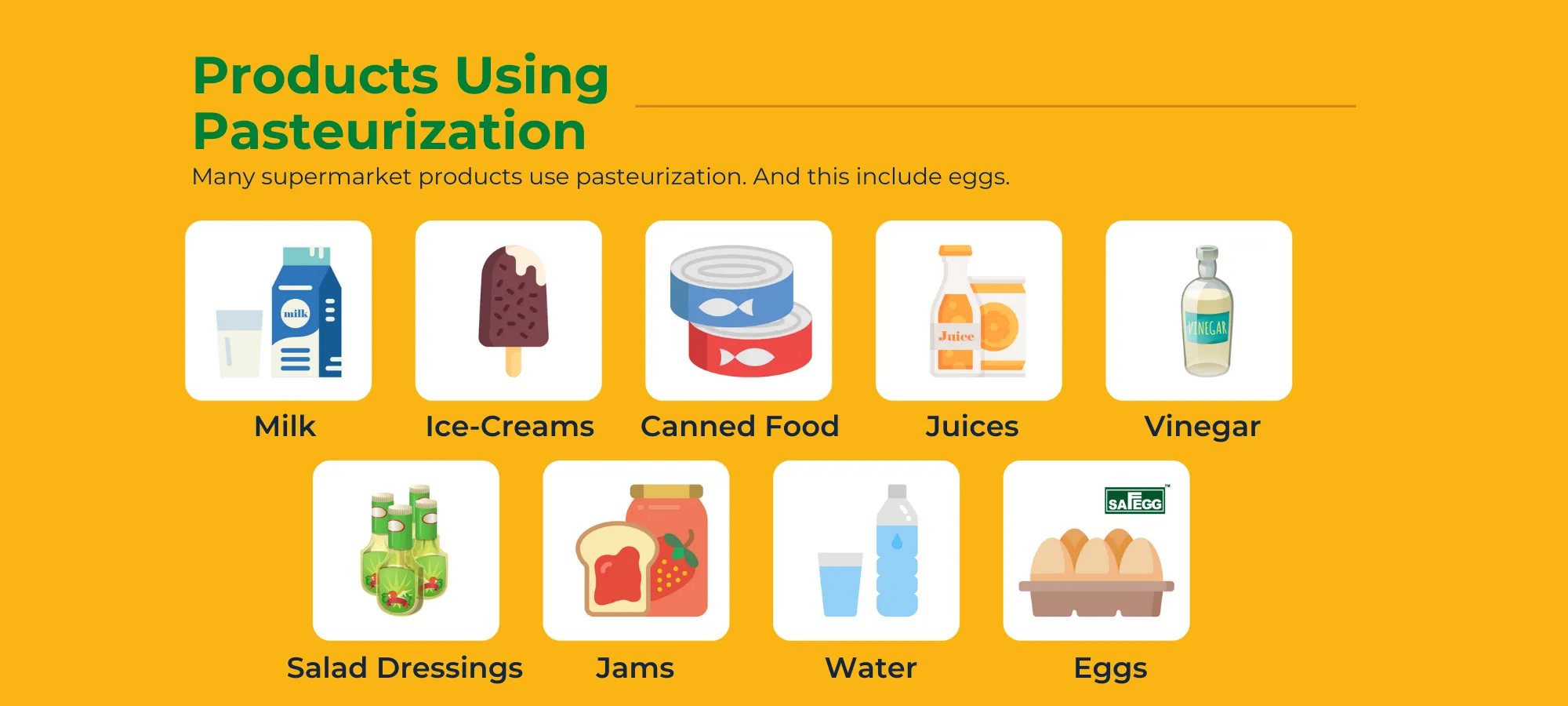 Eating raw or under-cooked unpasteurized eggs may increase the risk of contracting food-borne illness such as salmonella poisoning. Symptoms of salmonella poisoning may include diarrhea, fever, or stomach cramps.
Click here to learn more about salmonella at Centers for Disease Control and Prevention
Safegg™ pasteurization technology uses time, heat and clean natural water to remove 99.9% of bacteria ― all the way from the yolk to the surrounding egg shell. And it's naturally made safer without dangerous chemicals or radiation.
What types of bacteria get removed? These include salmonella, staphylococcus aureus, escherichia coli, coliform, yeast and fungus.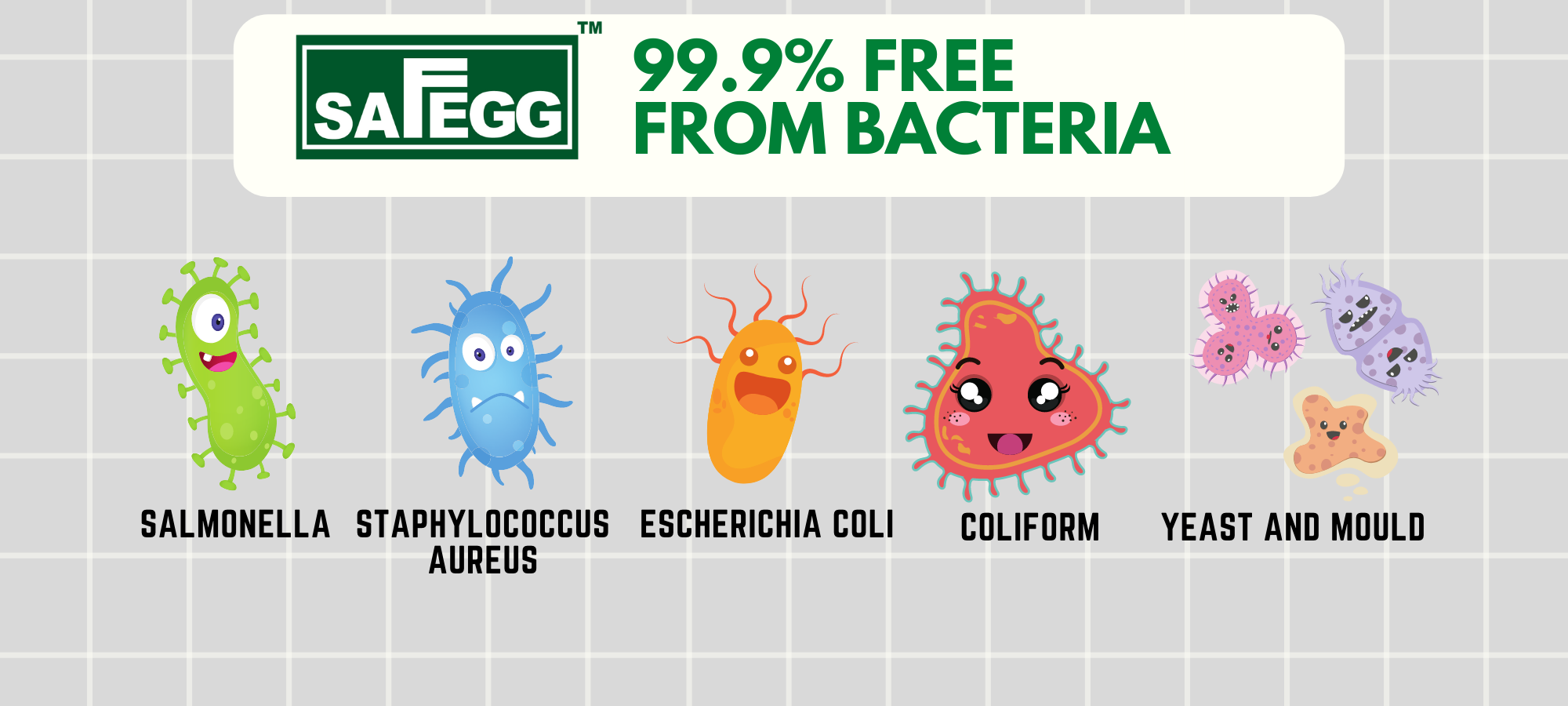 Each batch of Safegg™ is rigorously lab tested by accredited third-party laboratories to ensure bacteria count is undetected ND(<10) or absent from lab test results.
This makes Safegg™ really safe. You could even drink it raw or enjoy the Malaysian Kopitiam way ― soft-boiled eggs with sides of roti bakar buttered toast. Oh boy...sedap 😋!
Pasteurization process doesn't change the taste, texture, colour, quality, or nutritional value of the eggs.
For the egg connoisseur, you'll appreciate the pure taste of wholesome egginess as any residue hints of fishy aftertaste are filtered out.
The process also preserves the eggs' nutritional value for a longer period of time.
To protect the eggs against nasty microbes, all perfectly pasteurized eggs are layered with food grade coating before packing and delivery.
Though egg pasteurization process sounds simple, it requires sophisticated technology that could not be duplicated with precision using home kitchen tools.
At Safegg™, we perfectly pasteurize eggs using our South Korean award-winning egg pasteurization technology.
Get your next batch your eggs from Eggshipper today!